Justification Letter
Download this document and fill in any relevant details to submit in the approval process when planning your visit to Nashville for Magnet User Summit 2024.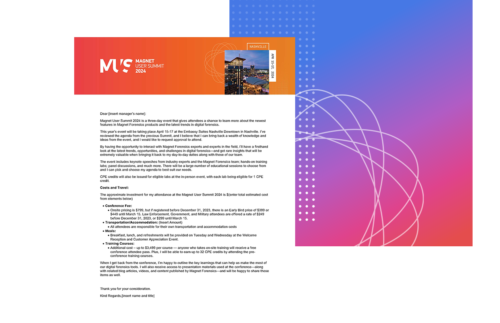 Hear From Past Attendees
We were fortunate to get a few attendees to share their experience at last year's Magnet User Summit. Hear why they loved the event and why they would recommend that anyone in DFIR attend.
Reasons to Attend
In-Depth Learning on Magnet Products
Magnet Forensics products are robust in their scope. Learn more about how our solutions, like Magnet AXIOM & Magnet GRAYKEY are able to help you in your investigations—particularly when working with mobile devices.
Networking With Other DFIR Experts
You'll have a chance to talk to leading voices in the industry and share the challenges (and solutions) facing everyone day to day.
Training Opportunities
Beyond what you'll learn from experts during the event, you can use this opportunity to dive even deeper into digital forensics with Magnet Forensics Training—making sure no stone is left unturned. 
Stay Ahead of the Latest DFIR Trends
DFIR is a constantly evolving field, and you can never be too ahead of the curve. Between Magnet staff and external DFIR experts, you'll be able to keep up with what's new across the board. 
Meet Magnet Forensics Leadership
This is your chance to talk to Magnet experts and leaders! Share your thoughts on what's working and what's not in Magnet Forensics products, learn more about the methodology around their development, and more! 
Hear From Magnet Forensics Partners
Magnet Forensics is proud to have such esteemed partners to help make sure our digital evidence solutions go above and beyond. Get a chance to talk to them directly about how our products work together to simplify investigations. 
A Chance to Let Loose a Little
Our Customer Appreciation Event is a great chance to enjoy a great meal and have some refreshments, bond with good friends, and hear some lively music (maybe from our Chief Innovation Officer, Jad Saliba, no less!). 
Help Shape the Future of DFIR
Magnet User Summit isn't just a chance for us to tell you what's new—it also provides a forum for you to tell us what you think about DFIR and where it's headed, and how we can help get there together. 
Relax at Our Wellness Zone
Take a moment to focus on you. With our Wellness Zone, you'll get to take part in some helpful treatments to keep your mind and body at ease. 
Test Your Capacity for Hot Chicken
Brave people have faced down against this world-famous chicken, and some have managed to be able to tell their tale afterwards. Are you up for the challenge? 
Join Us in Nashville
Save your spot today for Magnet User Summit 2024—a perfect opportunity to not only learn about the latest in Magnet Forensics products but also the current state of DFIR.